Florida's results will be the single most important development for investors to follow on election day.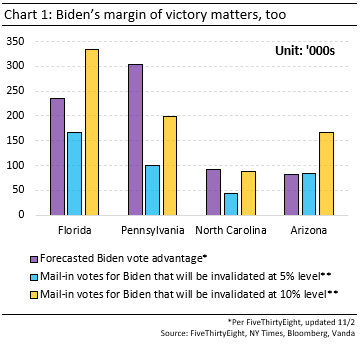 The margin of victory will likely determine the likelihood and resolve of a potential state-level GOP challenge.

While polls have tightened since the 1H of October, Biden is still expected to garner around 240,000 more votes in Florida than Trump. That's a pretty decent lead, and it sits right in the middle of the 5% and 10% ballot invalidation levels that we've mentioned before (Chart 1).

Margin of victory that ends this presidential election probably sits north of +400,000 votes.
For further information about this research publication contact us at [email protected].